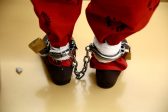 [ad_1]
The Road Traffic Control Society (RTMC) has proposed that washing and driving are considered serious as murder and rape.
The co-operation wants the perpetrator to spend seven days behind the grid before the judge shows up for bail.
RTMC proposes that the driving operation be moved from crime 2 to crime 5 and 6, which corresponds to the crime of murder and rape under the Criminal Procedure Act.
The argument is that those who drink and control threaten a number of other motorist lives and a heavier punishment can bring results.
When she spoke 702, Justice Justice South Africa chairman Howard Dembovsky said road traffic cooperation was hot air.
He said the proposal was nothing new in favor of the road transport company.
Calls have been made since September 2015, according to Dembovsky, but failed to get through the Ministry of Justice to begin to amend the Criminal Code.
Broadcaster Bongani Bingwa claimed that a stricter punishment may be a way to save lives that Dembovsky agreed to.
However, the South African President's project said he did not support the prosecution.
"Sapy already has a standard operating procedure requiring a person arrested for driving under the influence of alcohol to be detained for at least four hours and watching if she suffered a bail sentence."
There is no need to use the lengthening system as a punishment that RTMC likes to propose, he said.
(Assembled by Gopolang Chawane)
To get more news, download Citizen for iOS and Android.
[ad_2]
Source link