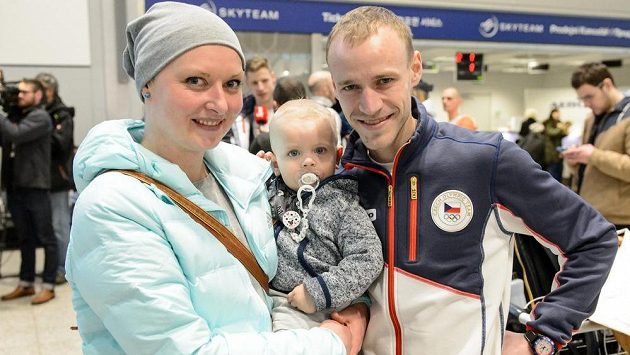 [ad_1]
Have you threw your head last winter?
Nothing else was left. I wanted to throw her behind my head by ending. Finally, I decided to try again, and I like it.
What made you change your mind?
Mostly a wife who could not imagine I ended up and was with her at home (smile). I had a lot of talk with her. Nobody else knew it, only she and Shelby (personal coach Lubos Plechac). We put together for and against, my wife was sorry to end this season. She was probably right, I hope to thank her after the season for being a good move.
Thoughts at the end have been chasing you over the course of the Olympic Winter?
Only when the races ended, I did not want to train, I did not really care. It was probably the toughest time I've ever experienced. But I hope I chose that bottom, and now I'm going to kick it up.
Summer gave you hope to do that?
It was not entirely optimal. The results were some, but I had more. It was important to me that she managed to get off the World Cup quota. I could concentrate on strength rather than technology, so the Grand Prix was not optimal.
Have you been pleased that your long-term partner Jakub Janda has taken over the ski jumping?
Certainly. But it's not easy to say, it's a long-distance run. I believe he will lift the jumps, it is good for us to be able to communicate normally, which is very important to me.
The Austrian coach Richard Schallert has finished with the team and you have given it a lot. Are you still in touch?
Sometimes we write, but as I understand, he would rather forget his jumping, so I'm not going to provoke him much.
Under David Jiroutko, who returned to the show, did you change the preparation?
At all. I am doing the same trainings, we have the same Austrian system. I do not want to change anything, I just think it's a relaxed atmosphere in the team, we play more games. That's probably the biggest change.
And also in equipment, you do not have to wear giant and often mocked helmets, the new head of the Jakub Jand section has got the new one from Uvex.
That's a real difference. At the first jump, I had the feeling that we had nothing at our head. After about fourteen years of asking for it, it finally did.
And other equipment? Coach Jiroutek commemorated him …
David always praises everything, he's optimistic, which is good. But the material is certainly not bad, at last we have substances that were forbidden last year when we were limited by the colors of the overalls. We do not have a rehearsed skis, that's probably the first Wisla saint (next weekend).
Is it a big problem that you just jumped on a ceramic track?
Maybe another team on the snow jumped in Rovaniemi. But it does not matter to me, it will come to me the same as in the summer.
Do you welcome the season to start in Wisle instead of Finnish Kuusamo where it started in the past years?
Certainly. Kuusamo is a lot of wind and cold. Wisla will not be out of the sky, but it's nice for us not to go anywhere, it's only four hours by car.
What would make you happy in the winter? Last year, after a great summer, he believed in assaulting the winners …
Now I'm in a different situation, I hope that after last winter people do not expect me so much, so I can be relatively cool. It really matters how the first race will be run and the season starts. I know I have to jump on better results than last year.
[ad_2]
Source link