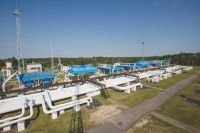 [ad_1]
In order to familiarize with international practice and discuss the operating regime of the Inchukalns Underground Gas Storage Facility, which corresponds to the situation on the Latvian market after the opening of the gas market, Conexus Baltic Grid will hold a 22nd International Conference on the "Underground Contribution natural gas supply to address security of supply problems ".
Incukalns Underground Gas Storage (Incukalns PGK) is the unique asset of Latvia and is one of the most important sources of energy and security for Latvia and the entire region. PGK Incukalns is the only operating repository in the Baltic States and provides stability for regional gas supplies. Due to storage, the stability and supply of natural gas supplies to Latvian customers are not dependent on demand from other countries, as natural gas from Incukalns UGS is being supplied in the heating season. In addition to the advantages of the gas storage facility, maintenance of the infrastructure is full of tasks and storage for the second season works under new market conditions, informs Dace Baltabola, head of the AS Conexus Baltic Grid Communications Division.
Zane Kotēne, Chairman of the Board of Directors, said: "The gas market has changed significantly in recent years – there are new game rules that require not only additional investment for market participants but also various business risks. Although landfill is regulated in Latvia, there is no obligation on the country to use the storage site and its performance is left on the market itself, so, as in other countries, we must also answer the question of how to make a unique resource in the future his strategic tasks. "
According to a study by Gas Infrastructure Europe, the situation in Europe is similar, but countries choose different ways to build a sustainable gas market and integrate gas storage facilities into it. The conference will provide an opportunity to get acquainted with the experience of France, Hungary and Poland, while industry and industry experts will discuss the Inchukalns gas storage model, which is in line with the situation on the Latvian market, Dace Baltabola reports.
The conference will be held on November 22 at 10:00 at Park Inn by Radisson (Krogus iela 1, Riga).
[ad_2]
Source link