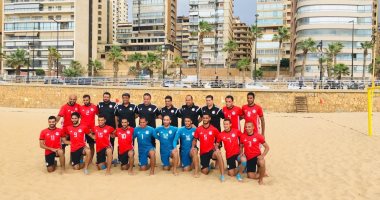 [ad_1]
The Egyptian football team, headed by Ahmed Abd Razek, will meet with Brazil at 14:15 on the 2 nd round of the Pharaohs at the Emirates Cup.
The Beach Team won the SAE 3-1 in the first Emirates Cup International and scored goals Ahmed Shehat, Haytham Atef and Mustafa Ali.
This includes Khaled Latif as head of mission Ahmed Abdel Razek, Mustafa Lotfy as general coach Yasser Abdul Khaliq, guard guard, Ahmad Kamal, director of administration, physician Walid Morsour, physiotherapist Abbas Hassanein, Mahmoud Maher Mustafa Ahmed, Mostafa Samir, Mustafa Ali, Ahmed Shehat, Haitham Atef, Karim Sayed, Abdel Rahman Hassan, Mohamed Abdel Nabi, Husseini Taha and Hassan Mohammed.
Egypt has a meeting with Spain on Thursday at 3:30.
[ad_2]
Source link